Recoletos Formation Center, Mira-Nila Homes, Quezon City – Early morning of March 08, 2019, the Prior General of the Order of Augustinian Recollects, Fray Miguel Miró, OAR, Fr. Javier Monroy, OAR, General Councilor and Secretary General on Formation and Spirituality, and Fray Raul Buhay, OAR, General Councilor and Secretary General Apostolate  arrived at Recoletos Formation Center for the renewal visit.
The Prior General of the Order, in the renewal visit, aims to get acquainted with the brothers, know the community, strengthen common life and the religious observances so that community becomes builders of communion.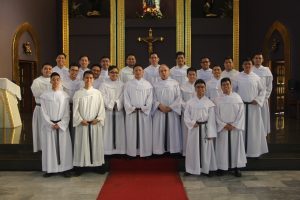 The visit started with the celebration of the Holy Eucharist at St. Thomas Villanova Chapel. The Prior General, in his homily, reminded the formators and seminarians on the importance of the Pope's message on conversion – personal and communitarian conversion. He explained the need to serve the people and to be close to the suffering: "We need likewise pastoral conversion."
On that same day, the Prior General met the RFC formators and talked about different topics such as: the joy of living the gospel in evangelizing communities, Life and Mission Project of the Province and the Order, OAR charism in the formation apostolate, social apostolate (ARCORES), protection of minors, prevention of abuses and attention to victims, as well as communication and communion. At around 3 o'clock in the afternoon, the Prior General engaged in dialogue with the "interns" (non-OAR religious living in RFC).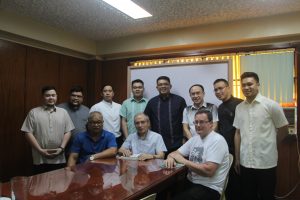 On March 9, after the Eucharistic celebration at Our Lady of Consolation Parish at 8:00 AM, Fray Miguel Miro met the Secular Augustinian Recollects and the Recollect Augustinian Youth. Around 10:00 AM, the Prior General and Fray Javier Monroy, OAR, the President of the Secretariat of Formation and Spirituality met the Coristas. Fray Miguel shared his main concerns as Prior General on formation, pastoral care for the youth & vocation promotion, community and spiritual life. He highlighted the value of trust (confianza para hablar). "The important thing is that you have trust. You have so many things to open up and these are concerns that you cannot heal by just praying." He concluded the session with an invitation, "We really need to trust each other in order to grow together."
During the visit, he allotted a great portion of time, having a one-on-one dialogue with the friars.
Fray Jay-Jasper P. Jamelo, OAR