Fr. Huberto dunstan Decena celebrated his 79thbirthday las February 19, 2019.
The birthday celebration was held at Bulwagang Recoleto at 81 alondras St. Miranila Homes, Congessional Ext., Quezon city.
Visitors from the nearby communities of the Recoletos in Antipolo City, Tandang Sora, Quezon city, San Sebastian Manila, Cavite and Tondo Manila attended the celebration.  The celebration was held at theBulwagang Recoleto complex.
The Theologians serenaded the celebrant with a song composed by Caberte entitled "I Love You So Much."  The giving of a baloon-shape heart  After the Song, selected theologians offered balloons in shape of a heart.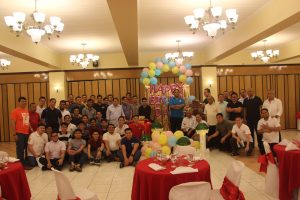 The message of Fr. Lolo was on gratitude to have reached such age–79.  His classmate, Fr. Buñao, a balik-formator, after having served long in the educational apostolate of the Province, gave a message.  The latter was happy for the celebrant, recalling that even during their seminary years that they had conflict and misunderstanding yet ythey always get reconciled.  He ended his message with some tone of confidence:   Fr. Lolo is strong because accoridng to scriptures "the span of life is 70 and 80 for those who are strong."
Fr. Selma, the Prior Provincial, for his part, reminded all religious that "the elders and those who are sick are the treasures of the community." He was grateful to Fr. Lolo's contributions to the community.
The night was really grace-filled. The visitors were happy.  And most of all, Fr. Lolo was wearning a big smile as he trooped to bed late that evening.
Fray Stephen Pejano, OAR