March 13, 2019, 3:00 PM commences the final thesis defense of graduating students of the Recoletos School of Theology starting with Fray Charlemagne D. Marin, Jr., OAR.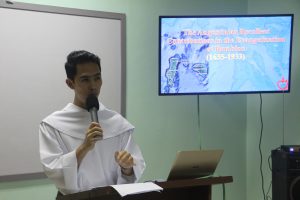 His thesis work was on Church History entitled "The Augustinian Recollect Contributions in the Evangelization of Romblon (1635-1933)." His adviser was Professor Emmanuel Luis Romanillos.
The thesis defense panelist were Fr. Emilio Edgardo A. Quilatan, OAR, Fr. Albert Cecilio A. Flores, and Fr. Jonathan Bitoy, CMF. The Director of Research Planning and Development, Fr. Leander V. Barrot, OAR, moderated the academic activity.
Congratulations to Fray Marin for having successfully passed the Thesis Final Defense.
Fray Jose Enrico V. Gallego, OAR