Archbishop Socrates Villegas, D.D., Archbishop of the Archdiocese of Lingayen-Dagupan, donates to the Augustinian Recollects the Parish of Our Lady of the Visitation, Urbiztondo, Pangasinan, in the presence of Fr. Miguel Mirò, Prior General of the Order of Augustinian Recollects last March 15, 2019.
Bishop Socrates and Fr. Selma, on the altar of the Parish Church, signed the official document called the "Deed of Donation" to formalize turn-over of the Parish to the Augustinian Recollects.  The signed document was then given to Fr. Miguel Mirò. OAR to signify its full incorporation to the whole Augustinian Recollect family.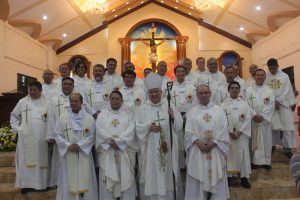 The ceremony also included the blessing of the newly renovated sacristy, the right wing of the church, and the sanctuary of the "Cristo Divino Tesoro" by Bishop Socrates.
In the the homily part of the Eucharistic celebration, Bishop Socrates emphasized that the people are more beautiful than the church because they are the temple of the Holy Spirit. The good Archbishop said, "Mas maganda kayo sa simbahang ito kasi kayo ang templo ng Espirito Santo." He also expressed his gratitude for the Agustinian Recollects for their presence in his Archdiocese and for working with him in the evangelization the people.
After the post communion prayer, Fr. Samson Silloriquez, the prior of the community of Augustinian Recollects in Urbiztundo, Pangasinan, thanked Bishop Socrates and all attendees to the celebration.  He mentioned in his message that it was the first time, in the history of the Augustinian Recollects, that a Bishop donates a parish including the lot to the Order.
A procession of the Santo Cristo Divino Tesorofollowed to culminate the liturgical celebration.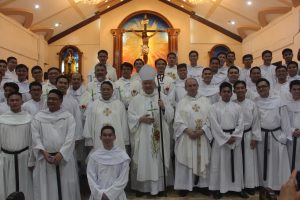 After the Holy Eucharist a simple dinner for all visitors was held.  This was an historical event for the the Province of St. Ezekiel Moreno and the whole Order of the Augustinian Recollects.
Present too in the celebration were the Augustinian Recollect priests and religious representing the different communities in Luzon and the Secular Augustinian Recollect Fraternity representatives.  The Theology students of RFC and some interns served as choir for the celebration.
It was a grace-filled event for the Archdiocese of Lingayen-Dagupan, the Province of St. Ezekiel Moreno and the Order of the Augustinian Recollects.  Praised be God!
Fray Stephen Pejano, OAR