The community of Recoletos Formation Center welcomed five newly professed OAR Friars and three brothers coming from Pious Unions.  These are additional members to the RFC community in the journey toward theological, human, spiritual and human maturity.
The very said day started with the celebration of the Holy Mass in honor of the memorial of the birth of St. John The Baptist.  In the homily, Fr. Lauro V. Larlar, prior of the Recoletos Formation Center, focused on the John the Baptist as light to the world.  This image of John as light for the world is a great challenge to believers but most specially to consecrated people in the midst of pandemic crisis.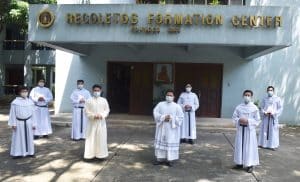 In the morning the community busied itself with cleaning and preparing the house for the said event.  The community organized and invited some religious priests to join the celebration.  The theology students started the ball game at 2:00 in the afternoon.  Afterwards, religious priests shared their time with us.
In the evening, the community prayed the vespers in "one heart and one voice."  The communion in prayer was followed by a communion of table fellowship to welcome the new members of the Recoletos Formation Center.  The evening event was held at the open court of RFC.
By:  Fray Judd Galinato, OAR