The Recoletos Formation Community (RFC) of Mira Nila, Quezon City joined their confreres at the St. Ezekiel Moreno Novitiate – Recoletos (SEMoNoRe) in Antipolo City in commemorating the Feast of St. Ezekiel Moreno on August 19, 2019.
The highlight of the occasion was the Eucharistic celebration presided by Rev. Fr. Gerry Orbos, SVD, whose healing from cancer is attributed to the intercession of the Saint. "Nothing happens by chance, everything happens because of a special purpose from God," Fr. Orbos said in his homily as he recalled the accident that eventually led to the discovery of a tumor in his lungs. He shared how he was gifted with an image of St. Ezekiel Moreno whom he was initially unfamiliar with. Having learned of the Saint's biography, especially his missionary activities in the Philippines and his reputation as the Patron Saint of cancer patients, he developed a devotion to the Saint. He was later declared free of cancer and he attributes his miraculous cure through the powerful intercession of St. Ezekiel Moreno.
"St. Ezekiel is very much among us. He is alive. He is actively involved in our lives," Fr. Orbos stressed in his homily. He enjoined everyone to find joy in daily life and to avoid bitterness, rancor, grudges, hatred and regrets. "Life is too short. Let us put humor into it every day and always remember that God loves us. There is so much to thank God for," he quipped.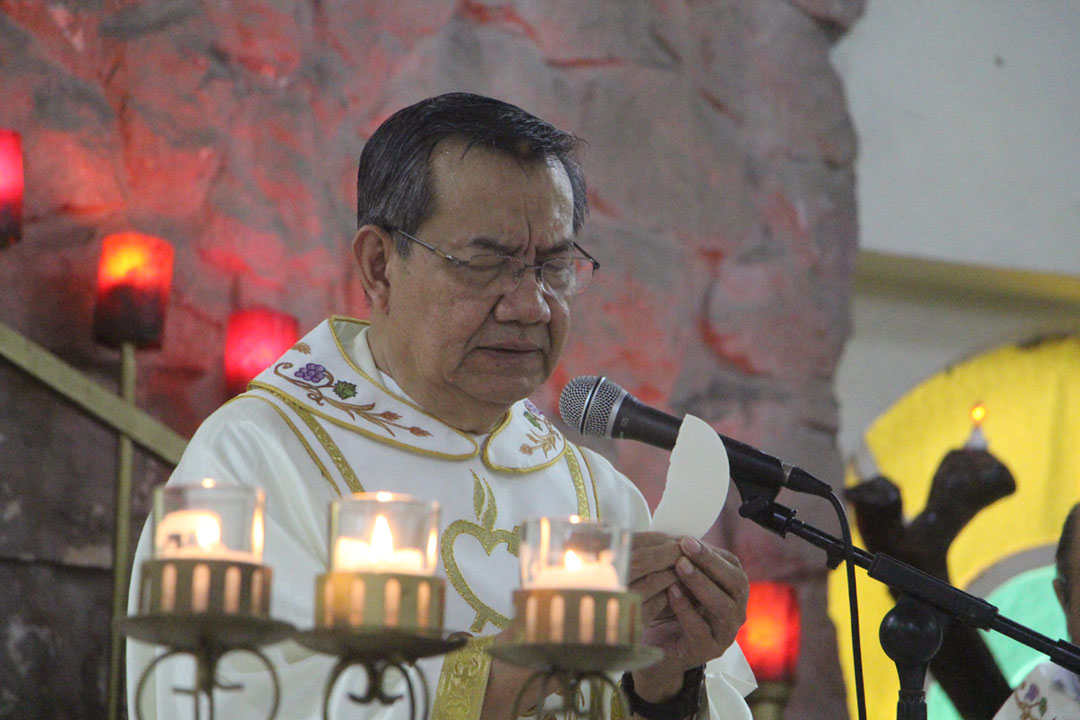 In gratitude for his presence, Rev. Paul Dacanay, OAR, Rector of the SEMoNoRe, gifted Rev. Fr. Gerry Orbos, SVD, with a 2-ft. resin image of St. Ezekiel Moreno, along with a First Class Relic (ex ossibus – from the bones) of the Saint with its corresponding Letter of Authentication.
The Eucharistic celebration was concelebrated by priests from the Order of Augustinian Recollect and other religious congregations, and attended by the members of the Secular Augustinian Recollect Fraternity (SARF) as well as the seminarians from the Recoletos Formation Community.  Lunch was served at the covered gym after the Mass.
Saint Ezekiel Moreno y Díaz, OAR was a member of the Order of Augustinian Recollects who was born on April 9, 1848 in Alfaro, La Rioja, Spain and later served as a missionary to the Philippines. After his ordination to the priesthood in Manila, he engaged in various missionary works in Calapan, Oriental Mindoro; Puerto Princesa, Palawan; Imus, Cavite; among others. He was proficient in Tagalog. St. Ezekiel became the Bishop of Pinara and later of Pasto in Colombia on December 2, 1893, where he was known for his generous charity. He died of cancer of the palate on August 19, 1906 at the age of 58. St. Ezekiel is popularly invoked as the Patron Saint of cancer patients.
-Br. Constantino V. Salas, MMMP