September 11, 2020, Fray Emilio Edgardo Quilatan, OAR celebrates 55th birthday with RFC community.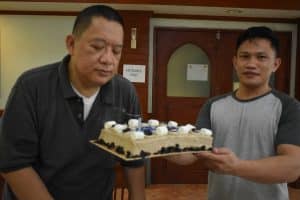 The celebration started with the early morning Holy Mass presided by the birthday celebrant.  The celebrant commenting on the gospel's words, "Why do you observe the splinter in your brother's eye and never notice the great log in your own?" (Lk 6:41), makes a pointed observation that usually, we criticize others by looking their external actions and question their motives.  We ask why they did them.  Often, the criterion of our criticism is severity.  The celebrant however, noted that with regard to self, "We don't criticize our actions."  The preacher suggested that, we also have to look into our intentions.
Due to the pandemic, the yearly basketball and tennis tournament organized by the birthday celebrator were cancelled.  Nevertheless, the virus cannot stop the community from celebrating the big brother's birthday.
Stay Health, BIG BROTHER.
By:  Judd C. Galitano, OAR