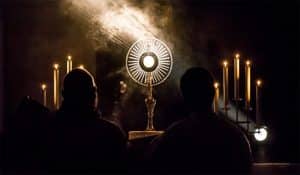 Recoletos Formation Center (RFC) held a five-day retreat for the theology students prior to the opening of the school year 2020-2021.  The Retreat, marked by the intense social distancing due the COVID 19 pandemic focused on personal dialogue with the Lord.
A talk was held in the morning observing the social distancing and other health related distancing protocols established by the IATF.  Since the intern brothers were still in quarantine period, they listened and participated in the retreat activities via the net.  In the evenings Fr. Ian Espartero, OAR celebrated the holy eucharist with them.    A great part of the day was spent in dialogue with the Lord before the Blessed Sacrament and with their assigned formators.
The same retreat afforded the theologians to perform personal study, manual works, and physical exercise.  A sound mind and spirit in a healthy body.
Indeed, the retreat was both a fitting end to the summer break and a beginning of a new theological year of formation in studies and values.
Fr. Lauro V. Larlar, OAR the Rector of Recoletos Formation Center facilitated the retreat.
By: Mannycho Sanayan